DYJC Online Turbine Oil Purifier
The turbine oil purifier adopts the latest technology, which integrates gravity, sedimentation, reunion, vacuum separation, adsorption, separation and pressure filtration into one. With super strong demulsification, dehydration, deaeration, and impurity removal capabilities, it is great equipment for processing wheel oil, low viscosity lubricating oil and hydraulic oil.
This turbine oil filtration machine is widely used in power, metallurgy and other industries to purify turbine oil of steam turbines, water turbines, fuel engines and steam turbine units. It can demulsify, dehydrate and purify heavy emulsified turbine oil and low viscosity lubricant mixed with water. It can also be used for other mechanical plants.
The product can absorb free carbon and colloidal substances through macromolecules to can restore new oil properties.
Introduction of Turbine Oil Purifier
DYJC Series Effectively Remove Water Coalescing Vacuum Turbine Oil Purifier is one kind of supportive online oil cleaning device that is equipped for hydro-turbines, turbines and other lubrication sets.

It is mainly designed to purify the waste oil with large water content and being seriously emulsified. Customers can get good quality oil by deep dehydration filtration. The design is very human-centered, customers can only use the vacuum system for deep dehydration or only use coalescing dehydration system for online filtering, or can use both systems at the same time.

It runs reliably and stably, which is undoubtedly the ideal oil treatment solution.
Product Composition
Coalescing turbine oil purification machine consists of the following components: coarse filter, oil inlet pump, heater, protection filter, coalescing separating chamber, dissolved air chamber, vacuum separation chamber, vacuum pump, condenser, oil outlet pump, fine filter, tube, valves and electric control systems.
Turbine Oil Purifier Working Flow Chart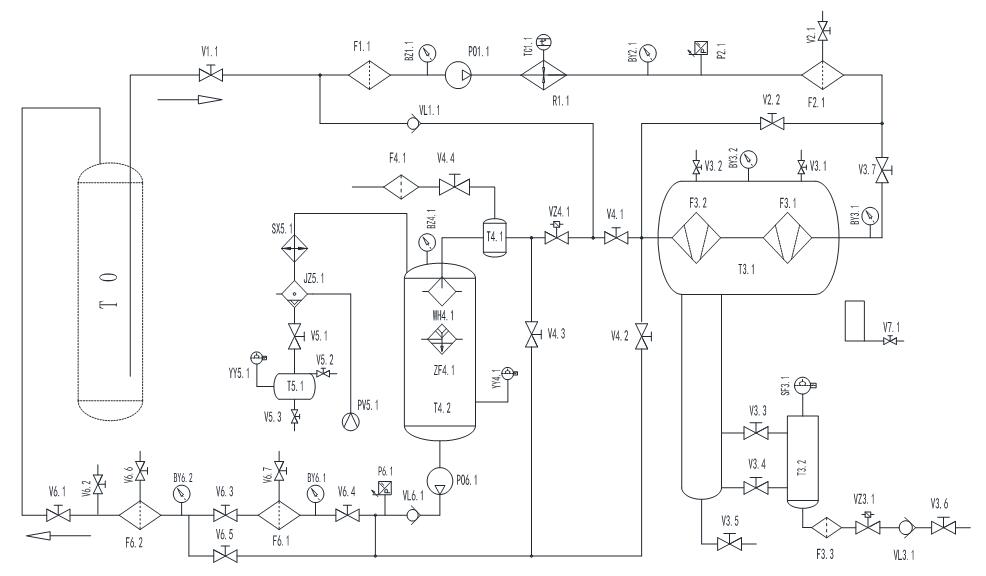 Advantages of Turbine Oil Purifier
Yuneng's Turbine Oil Purification Machine is equipped with the below system to ensure the machine with high running performance:
The eternal heating control system

Automatic oil level control system

Over-pressure protection system

An oil-sprays level protection system

Over-load protection system

Automatic Drainage System
Parameter of Turbine Oil Purification Machine
DYJC Series Online Turbine Oil Purification System

Item

Parameter

Unit

DYJC-3000

DYJC-6000

DYJC-7800

DYJC-9000

DYJC-12000

DYJC-18000

Technical Parameter

Flow rate

L/H

3000

6000

7800

9000

12000

18000

Working vacuity

Mpa

-0.06~-0.09

Working pressure

Mpa

≤0.6

Temperature range

℃

45-65

Power supply

 

50Hz    380V    3-Phase 4-Wire

Total power

kW

30

60

70

90

100

120

Inlet/outlet diameter

mm

25 / 25

40 / 40

40 / 40

50 / 50

50 / 50

50 / 50

Size

Length

mm

2000

2250

2400

2600

2600

2700

Width

mm

1550

1600

1600

1650

1700

1750

Height

mm

1600

1650

1650

1750

1800

1800

Weight

kg

750

900

1000

1200

1500

1800

Oil Treatment Index

Water  content

ppm

≤50

Filtering accuracy

µm

≤3

Cleanness

 

≤6
* The machine size, the weight will change slightly due to different configurations.
Product Images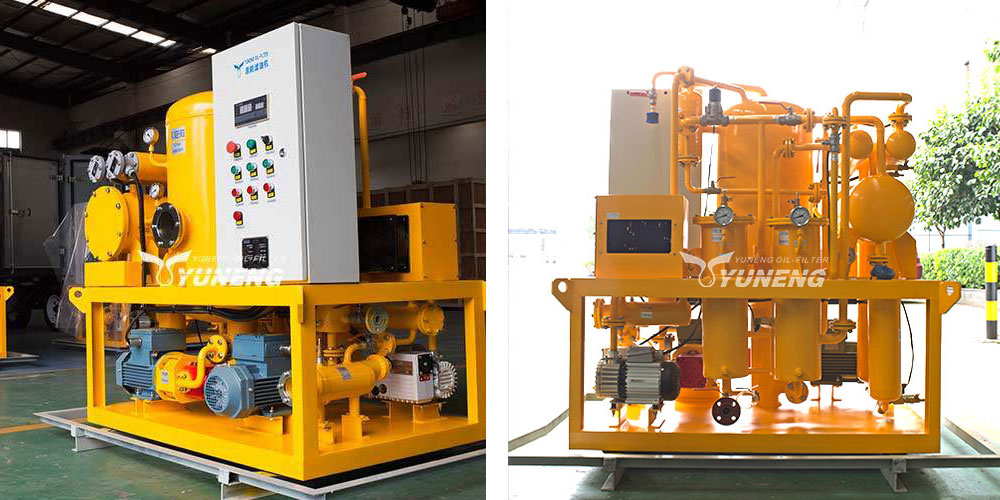 Yuneng's oil purifiers enjoy a fairly big market share and have become a famous brand in medium- and high-grade oil treatment equipment. If you have any needs or questions about our oil purifier, please feel free to contact us.