GF Transformer Dry Air Generator
Our GF transformer dry air generator is mainly used to quickly and effectively provide dry air for transformers and other industrial equipment. It uses an air compression system, refrigerated air drying system, adsorption drying system, air purification system and PLC control system.
This air drying equipment and purification system use a low-pressure oil-free compression system and low-temperature condensed moisture removal technology, which can solve the problems of dirty oil caused by air, steam and dust. 
Our dry air machine has the characteristics of small size, lightweight, easy installation and operation, energy-saving and high reliability. This machine has a series of instant display instruments such as power supply voltage, outlet pressure, outlet dew point, outlet temperature, absorption stroke, etc., which is very convenient to manage.
Features
 of Transformer Dry Air Generator
Air compressors can work continuously and reliably without worker's supervision, diagnose fault and send alarming. It can restart automatically after power off.

It adopts an advanced and reliable Microprogrammed Control Unit, it characterizes automatic timing, automatic switch of work.

This unit has a series of immediate display instruments such as power voltage, outlet air pressure, outlet air dew point, outlet air temperature, and absorption tour pressure, so it is very convenient for management.

It is an integrated design, you can choose PLC to check parameters automatically.

It is easy to operate, safe and reliable to use, it can save energy.
Product Principle

Transformer Dry Air Generator Flow Chart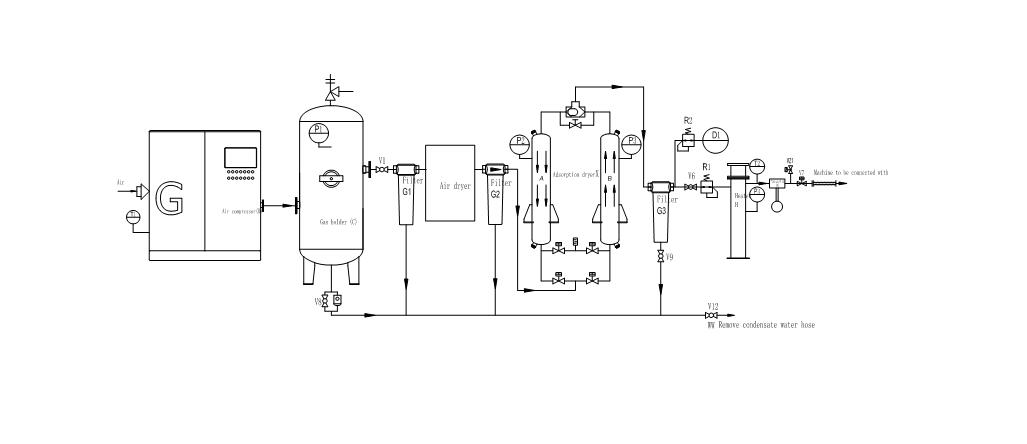 Parameter of Dry Air Machine
GF Series Dry Air Generator

Item

Name of  Parameter

Unit

GF-50

GF-100

GF-150

GF-200

GF-360

GF-480

Technical parameter of the equipment

Flow

m³/h

50

100

150

200

360

480

Working pressure

Mpa

0.6~0.8

Pressure drop

Mpa

0.05

Noise

dB(A)

≤80

Working power

 

(380V-50Hz) 3Phase 4 Wires, or as per buyer's option

Total electric power

kW

17

17

22

25

48

58

Size

Length

cm

230

230

230

230

320

320

Width

cm

170

170

170

170

225

225

Height

cm

235

235

235

235

240

240

Outlet pipe

DN

40/50

40/50

40/50

40/50

40/50

40/50

Weight

Kg

1200

1450

1600

1600

1900

2200

Air treatment index

Air outlet pressure

Mpa

0.02~0.04

Dew point

℃

-50 ~ -70

Impurity content

μm

0.01

Oil content in air outlet

ppm

0.01
*The machine size, the weight will change slightly due to different configurations.
Advantages of Dry Air Generator in the Electric Power Industry
The

 dry air generator for transformer

 

can show its unique advantages for large transformers and reactors in the power system.

When the transformer is shipped from the factory, heavier insulating oil is pumped out and replaced with very light dry air, which reduces the transportation cost of large transformers.

Due to a long time for overhaul and accident repair of a large transformer, sometimes more than half a month, if there is no absolutely dry air to fill the transformer around the clock, the transformer body will be seriously damp, and it will be seriously corroded. The insulation performance will be destroyed.

The dry air generator manufactured by our

 Oil Purifier

 

can ensure that the internal insulation of the transformer will not get wet during the maintenance process, and the maintenance personnel will not suffocate due to lack of oxygen when working inside the equipment. It is not affected by external climate change, avoiding the traditional transformer oil thermal cycle drying method, which can ensure the improvement of oil insulation performance and the reduction of moisture, and also ensure the personal safety of maintenance personnel.
Application

 of Dry Air Generator
Dry Air Generator For Transformer

 is suitable for supplying dry air that keeps the power equipment' inner parts from moisture in the maintenance of the transformer, reactor and other large power equipment.

This machine can ensure that the maintenance staff will not be short of oxygen when working inside of the equipment. It is more reliable economical convenient and safer than nitrogen. Therefore, it can shorten the maintenance period and improve the efficiency of maintenance quality.
Why We Need Dry Air Generator? 
Dry air generator for a transformer

 is used to remove moisture from the air. It is suitable for air drying of transformers. In the maintenance of power transformers, instrument transformers and other large power equipment, the dry air generator can keep the interior of the power equipment from moisture and prevent potential safety hazards. These dry air machines are specifically designed for transformer applications. It adopts an advanced and reliable microprogram control unit, which has the characteristics of automatic timing and automatic switching. Dry air generators remove particles up to 0.01 microns.
Chongqing Yuneng, as a reliable transformer air dryer supplier in China, cooperates with a famous local university (Chongqing University) to develop an integrated dry air generator. Customers can choose PLC to automatically check parameters. Our air compressors can work continuously and reliably, without the need for workers to supervise, and can automatically alarm if a fault is diagnosed. The oil content of the air outlet of the machine is as low as 0.01PPM.
Product Images

In addition to dry air generator for transformer, we also provide transformer oil filtration machines, including single-stage and double-stage. China oil purifier can produce 1,000 sets of oil purifier machines for other fluids every year. We are one of the world's competitive companies specializing in high-tech oil purifier research and manufacture. If you have any questions or needs for our products, please feel free to contact us.