KYJ EHC Fire-Resistance Oil Purification Machine
KYJ EHC series fire resistance oil purification systems are the latest vacuum oil purifier for purifying unqualified phosphate ester refractory oil. This machine can process and regenerate degraded refractory oil, remove acid, pigment, gas, water and particles.  
The body uses special metal materials compatible with refractory oil, combined with vacuum dehydration technology, multi-stage filtration system and new adsorbent to ensure that the treated oil reaches new refractory oil performance. The refractory oil filter is purification equipment necessary for the department using refractory oil, which can work online and refuel.
It has an advanced media cooling system, high-quality filter components, and large-capacity particles. The equipment itself is corrosion-resistant, with good mechanical properties and long service life.
Application of Fire-resistance Oil Purification Machine
KYJ Series EHC Fire-Resistance Oil Purification Machine is designed to purify the operating requirements of the fire-resistance oil. It adopts compatible materials and many cleaning oil technology, such as vacuum dehydration, new particle filter to eliminate impurities, special absorbent to remove acid components from oil.

Based on the different requirements of customers, its powerful functions and comprehensive oil treatment indexes make it becomes the best choice for customers.
Features of Fire-Resistance Oil Purification Machine
The tank and pipelines where fire-resistant oil going through are all made of stainless steel.

Dehydrate by vacuum distillation, water content less than 100ppm.

Oil-input and oil-output keep balance by a photoelectric switch which is sensitive and accurate to monitor oil level in the tank, stop inputting oil when the level marked high and keep inputting oil when low. Therefore, all series of Yuneng brand oil purifier never spray oil.

We use filters designed only for fire-resistant oil to remove particles. Cleanness up to NAS grade 5.

There is a system with absorbent to solve the acid problems.

After treatment, the important index-resistivity up to ≥ 6 x 109.

Good appearance, compact structure and easy operation.
Parameter of Fire-Resistance Oil Purification Machine
KYJ Series EHC Fire-Resistance Oil Purification Machine

Item

Name of parameter

Unit

KYJ-10

KYJ-20

KYJ-30

Technical parameter of the equipment

Nominal flow capacity

L/min

10

20

30

Working vacuity

Mpa

-0.07 ~ -0.09

Working pressure

Mpa

≤0.5

Working temperature of oil

℃

40~60

Working power

 

(380V-50Hz) 3Phase 4 Wires, or as per buyer's option

Total electric power

kW

10.5

13.5

18.5

Pipe diameter of oil outlet/inlet

DN

20/20

25/25

32/32

Size

Length

cm

130

Width

cm

90

Height

cm

150

Weight

kg

370

385

395

Oil treatment index

Water content

ppm

≤100

Filtering accuracy

μm

1

Cleanness

NAS

≤5

Resistivity

Ω.cm

≥1*1010
*The machine size, the weight will change slightly due to different configurations.
Product Image

Product Hydraulic Pressure Flow Chart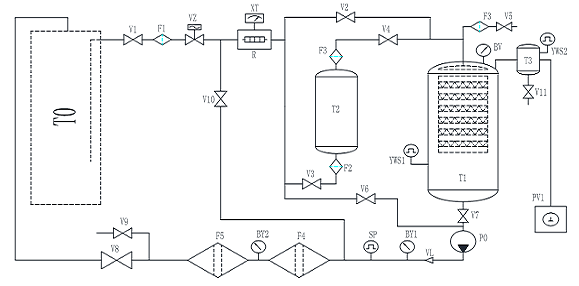 So far we have sold over 15,000 sets of Yuneng brand oil purifier machines, which are widely used in power electric, metallurgical, petrochemical, mechanical, military industry, railway, light industry, and other industries. Yuneng's products enjoy a fairly big market share and have become a famous brand in medium- and high-grade oil treatment equipment. If you have any questions or needs for our oil purifier machine, please feel free to contact us.