YL Series Mobile Mini Precision Oil Filter Machine
This type of small device can quickly and efficiently degas, dehydrate, and remove impurities from insulating oil. Improve the voltage value to ensure the safe operation of electrical equipment. Suitable for the treatment of aging transformer oil, transformer oil, switch oil and other unqualified insulating oils. In addition, oil purifier can be customized according to customer needs.
We are dedicated to the research of small devices, such as mini oil filter machine/ portable oil filtration systems / small oil refinery. These devices are small, efficient and mobile. The customized oil filtration units of China oil purifier have obtained the production license of explosion-proof electrical equipment issued by the relevant state departments.
The Introduction of Mini Oil Filter Machine
Our mini oil filter machine mainly deals with unqualified insulating oil, turbine oil, lubricating oil, etc. The machine can perform precision filtering, usually equipped with a three-stage filter, and can also be equipped with four or five-stage filters according to user requirements. Lightweight, easy operation, can be used as a long-distance high-stroke oiling machine.
Features of Mini Oil Filter Machine
Simple Structure and Small Space Cover Design

Electrical Control System

Waste Gas Treatment

Low Cost

Production with patented technology. Such as efficient separation tower, fuzzy control technology, dewatering and degassing are very effective.
It can purify the insulating oil that has lost its efficiency, so that the oil reaches the new oil standard, without the need to power off, change the oil or use filter paper.
With the function of refueling under vacuum conditions.
Solve the problem of removing acetylene.
The purifier has a wide route, strong dirt holding capacity, and can be used for a long time.
The machine is small in size, light in weight and easy to use.
Parameter of Mini Oil Filter Machine
Parameter

Type / Unit

YL-50

YL-80

YL-100

YL-150

YL-200

Flow Rate

L/min

50

80

100

150

200

Motor Power

KW

1.1

1.5

2.2

3

4.4

Inlet/Outlet Diameter

mm

32/25

38/32

44/38

48/44

64/48

Weight

Kg

100

120

150

200

260

Working Pressure

Mpa

≤0.5Mpa

Power Supply

 

50Hz380V 3-Phase 4-Wire (or as requested)

Filtering accuracy

µm

≤5

Delivery lift

m

≥15
*The machine size, the weight will change slightly due to different configurations.
Structure Flow Chart

Working Flow
Oil tank → Oil inlet valve V1 → Primary filter F1 → Oil pump PO → Pressure gauge BY → Fine filter F2 → Sampling valve V2 → Oil outlet valve V3 → return to the oil tank.
Application

 of Mini Oil Filter Machine
YL Series Mobile Mini Precision Oil Filter Machine adopts a way of multi-stage filtration. It's simple to operate and convenient for maintenance.

It's fit for filtering out various impurities such as turbine oil, insulating oil, mechanical oil, hydraulic oil, etc.
It could be combined with different filtering elements. 
It is a replacement product of the plate-frame pressure oil purifier, because it has high filtration precision and low cost.
Product Images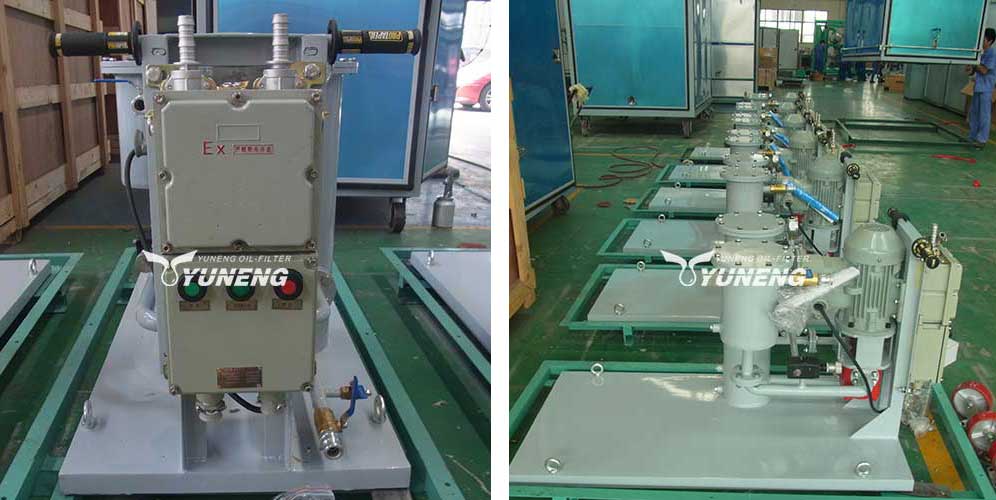 We have an explosion-proof electric device production permit issued by relevant state organs, we produce various series of explosion-proof oil purifier, including ZJA Series Double-Stage High Vacuum Oil Purifier, ZJB Series High-Efficiency Vacuum Oil Purifier, ZJC Series Turbine Oil Purifier, DYJC Series Online Coalescing and Vacuum Turbine Oil Purifier, KYJ Series Fire-Resistance Oil Purification Machine, JT Series Coalescing Dehydration Oil Purifier, and other explosion-proof purifiers adapted according to customer requests.
While ordering an explosion-proof oil purifier, customers need to state clearly the explosion-proof grade in the application place and other special explosion-proof requirements. The purification performance of the explosion-proof purifier is described in detail in the relevant product introduction.
If you have any questions or needs about our oil purifier, please feel free to contact us.