YZS Transformer Oil Regeneration Machine
The transformer oil regeneration machine is particularly suitable for regenerating used and aged transformer oils and insulating oils.
The two-stage vacuum transformer oil regeneration system not only provides the functions of dehydration, removal of impurities, but also removes the decay products and discoloration of acidity, sludge, free carbon, deep oxides and other soluble oil. It can increase the voltage of the insulating oil, make the indexes of the insulating oil such as acid and PH reach the national standard, and increase the index of the insulating oil. This is achieved through the use of high vacuum degassing technology and particulate filtration machine, as well as our special fuller earth. After processing, the oil can be reused.
Product Introduction
The 

transformer oil regeneration machine

 integrates the purification technology of low-temperature physical adsorption (reduce dielectric loss, decolor and deodorant) and online regeneration adsorption filters, etc, features high-speed purification and oil quality protection, etc. This plant can efficiently remove moisture, impurities, oxidative deterioration matter, hydrocarbons, and chromosome gum and other harmful substances n in oil. After decoloring and filtration with the machine, the oil will be as clean and clear as the new oil, especially the dielectric loss index of the transformer oil will be recovered nearly the same with new oil's standards,which ensures long-term circulation usage of oil.
The absorption filters of the machine have a regeneration function, which could be repeatably used, so as to reduce consumable investment, 

save costs

 and 

reduce pollution

.
Features of Transformer Oil Regeneration Machine
It doesn't need Acid and alkali procedure, basic processing and reduce the price of oil purification.

Complete procedure is physical filtration. The oil can be recovered and the additives in the oil will not be harmed.

Prolong the life time of antioxidant as well as ingredients by eliminating the oxidizing material in the oil.

Good outcome on the declorization. It can bring back the unqualified transformer oil to be tidy qualified oil.

The absorption agents can reuse after activating and regenerating on by the regeneration system so regarding prolong filter life cycle.
YZS Transformer Oil Regeneration Machine Flow Chart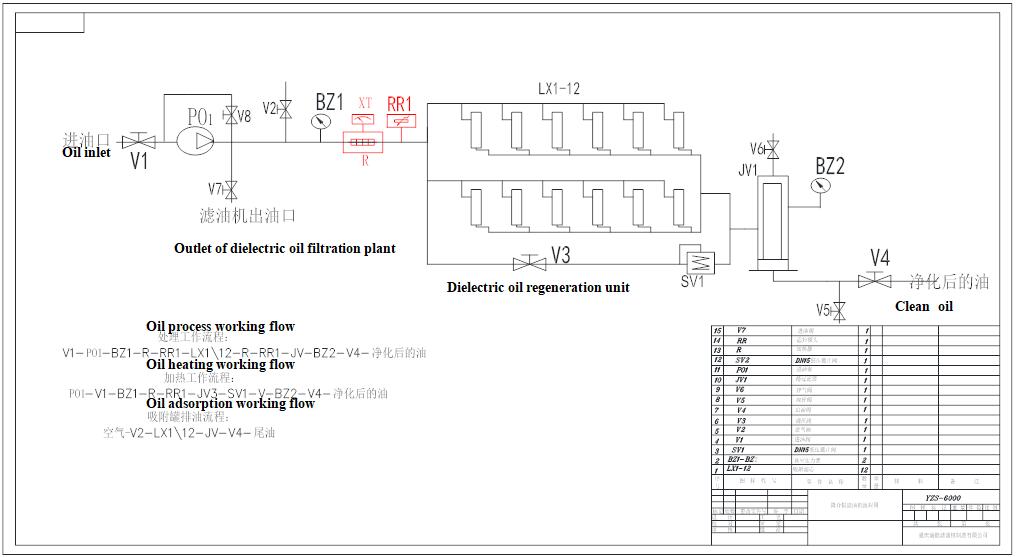 Technical Data of Transformer Oil Regeneration Machine
Item

Name of Parameter

Model Unit

YZS-3000

YZS-6000

YZS-9000

YZS-12000

Technical parameters of the equipment

Nominal flow capacity

L/h

3000

6000

9000

12000

Working pressure

Mpa

≤0.35

Vacuity

Mpa

-0.04~-0.095

Heater temperature range

℃

40℃-300℃

Working noise

dB(A)

≤85

Filter precision

µm

≤3

Working power

380V,50Hz,3 Phase 4 Wires or as request

Total power

kW

23

25

30

34

Oil treatment index

Dielectric loss factor(90℃)

≤0.005

Acidity

mgKOH/g

≤0.03
*The machine size, the weight will change slightly due to different configurations.
Advantages of Transformer Oil Regeneration Machine
It restores used oils to new like condition. This process makes it possible to fill transformers with oil that would previously have required disposal. The oil in the transformer can be used without replacement for the entire service life of the transformer.

Itis designed to extend transformer service life by restoring the dielectric strength and chemical composition of dielectric insulating oil.

In process of oil regeneration, oil degradation products and acidic compounds are removed, the oil becomes clear, oxidation resistance is improved, while gas solubility is reduced.
Product Images
Yuneng is one of the world's competitive companies specializing in high-tech oil purifier research and manufacture. We can produce 1,000 sets of oil purifier machine for other fluids every year. If you have any questions or needs about the transformer oil purifier, please free feel to contact us.