JT Coalscing Dehydration Hydraulic Oil Filtration Machine
Yuneng's vacuum hydraulic oil filtration machine is used to recover and purify contaminated hydraulic oil, and is used as lubricating oil, mechanical oil, coolant oil, gear oil, heat treatment oil, etc. Yuneng vacuum hydraulic oil purifier can quickly remove all pollutants such as moisture, particles, air, etc. from used hydraulic oil, and make the oil a new oil standard and can be used again.
This machine adopts a dual-stage primary filtration structure, large-capacity particulate matter, and multi-stage filtration system to ensure high filtration accuracy. The use of special high-molecular materials as filtration materials has the functions of demulsification, dehydration, and particle removal. The equipment is equipped with an advanced intercooler system and an automatic backwashing system to improve work efficiency. Because it uses high-quality filter components, it has the characteristics of corrosion resistance, good mechanical properties and long service life.
Product Introduction
The hydraulic oil filtration system designed by China oil purifier manufacturer combines the functions of precision filtration and high-efficiency dehydration. It uses advanced "coalescence separation" technology for dehydration, high dehydration efficiency and strong ability, especially for the separation of a large amount of water in lube oil.
It is a kind of machine to filter waste lube oil and other kinds of waste oil. This machine has high efficiency and good effect in filtering and cleaning waste hydraulic oil. This JT series coalescing dehydration hydraulic oil purifier machine dehydrates by 2 kinds of filter elements. Coalescing filter will make the free and dissolved water from small molecules to the big drop, then separation filter removes the drop by gravity, falling into the water tank.
Features of Hydraulic Oil Purifier
The pipelines and tank of the purifier can be stainless steel or carbon steel.

An oil/water interface detector is used to monitor the water level and discharge water automatically.

The electric system is controlled by PLC(with touch screen), the working conditions of all the parts are displayed clearly, monitoring, alarming, action control and safety stop enable the oil filtration machine to run online.

Germany's brand oil pump has good sealing quality, low noise and long service life.

Multilayer filtration can remove the impurities through a coarse filter, protecting filter, and fine filer. The granularity test is good to achieve NAS6.
JT Hydraulic Oil Filtration Machine Flow Chart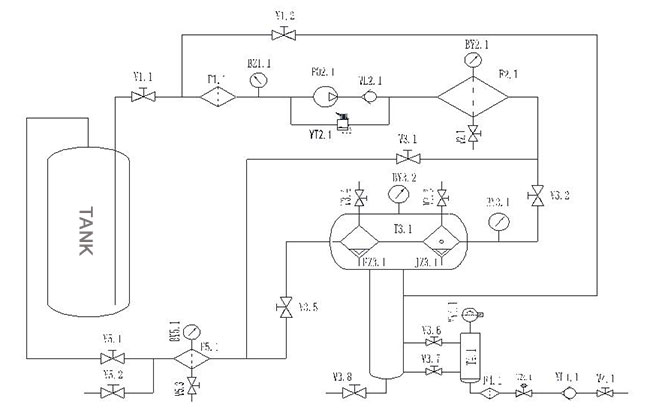 Advantages of Hydraulic Oil Filtration Machine
It uses the vacuum method and the centrifugation method can't match, can break all the oil-water emulsified structure in the medium. Through the particle filtration system, the cleanliness of the medium can be controlled stably in the system requirements to ensure the cleanliness of the oil.

Equipped with excellent system configuration and continuous performance, the JT series coalescing dehydration lube oil purifier machine is suitable for online operation. Particle filtration adopts high-efficiency filtration material as the filtration medium, large filtration area is designed to effectively filter very fine particle impurities and achieve high cleanliness of oil.
Technical Data of Hydraulic Purifier
Item

Name of Parameter

Model / Unit

JT-50

JT-100

JT-150

JT-200

Technical Parameter

Flow Rate

L/h

3000

6000

9000

12000

Working Pressure

Mpa

≤0.35

Temperature Range

℃

45-65

Power Supply

 

(380V~50Hz) 3Phase 4Wires, or as per buyer's option

Total electric power

kW

1.5

3

Pipe diameter of oil Inlet/Outlet

DN

25/25

40/40

50/50

50/50

Size

Length

mm

1550

1750

1900

2000

Width

mm

1000

1100

1200

1300

Height

mm

1400

1650

1550

1600

Weight

kg

4000

4500

5500

7000

Oil Treatment Index

Water Content

ppm

≤150

Cleanness

NAS

≤6

Filtering Accuracy

µm

3
*The machine size, the weight will change slightly due to different configurations.
Product Images

Yuneng can produce 1,000 sets of oil purifier machines for other fluids every year. We are one of the world's competitive companies specializing in high-tech oil purifier research and manufacture. If you have any questions or needs for our lube oil purifier, please feel free to contact us.