YNZSY-JB Lube Oil Blending Machine
The lube oil blending machine can be used to make different kinds of lubricants, such as transformer oil, hydraulic oil, heat transfer oil, etc. According to the required product, various base oils are added to the mixing vessel at a fixed ratio through flow indicators and controllers. Then it is dehydrated at atmospheric pressure and various additives are added, through thorough mixing and heating, the desired oil product is finally obtained.
The oil blending plant adopts automatic program control + manual control mode, and users can adjust parameters according to different needs. With a fault alarm device, the machine will automatically stop when the fault occurs, and the safety factor is high. The oil-making equipment is very suitable for small and medium-sized enterprises. It adopts mechanical agitation to achieve better mixing. Using constant temperature heating, will not damage the oil quality.
Features of Lube Oil Blending Machine
The heating temperature of the oil could be set by the control cabinet on the machine

With constant temperature heating system to ensure heating more uniformly and avoid damaging the oil quality

Full automatic control

Energy saving

Easy to control and low labor cost
Working Flow Chart of Lube Oil Blending Machine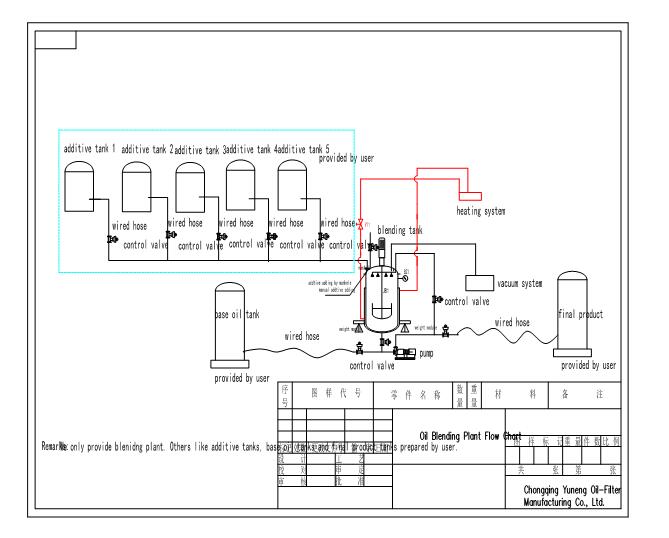 Parameter of Lubricant Blending Plant
Name of Parameter

Model No.

YNZSY-JB500

YNZSY-JB1000

YNZSY-JB2000

YNZSY-JB5000

Batch capacity

L

500

1000

2000

5000

Working pressure

Mpa

≤0.4

Vacuity

Mpa

-0.08~-0.095

Temperature range

℃

20℃-100℃

Working noise

dB(A)

≤85

Filtering accuracy

µm

≤20

Total power

kW

46

66

88

145
*The machine size and weight will change slightly due to different configurations.
Application

of Lube Oil Blending Plant
YNZSY-JB Series

Lube Oil Blending Machine

with heating system, additive adding and weighing system is professionally designed to blend different kinds of non-fuel oil.

It consists of the below main parts: heating system, auto chemical adding and weighing system, mixing system and electric control system.

With the help of the China oil purifier oil blending plant, final lubricating oil is good at viscosity, low-temperature nature, pour point, anti-oxidation in higher temperature, stability and flashpoint.
Our company provides complete equipment for the production of various lubricants. The services we provide include equipment customization and detailed engineering services. Such as oil tank design, equipment manufacturing and supply, installation and commissioning. And later equipment uses training, raw material formula recommendation, raw material procurement and supply.
The production of the equipment determines the project cost according to local market conditions.
Product Images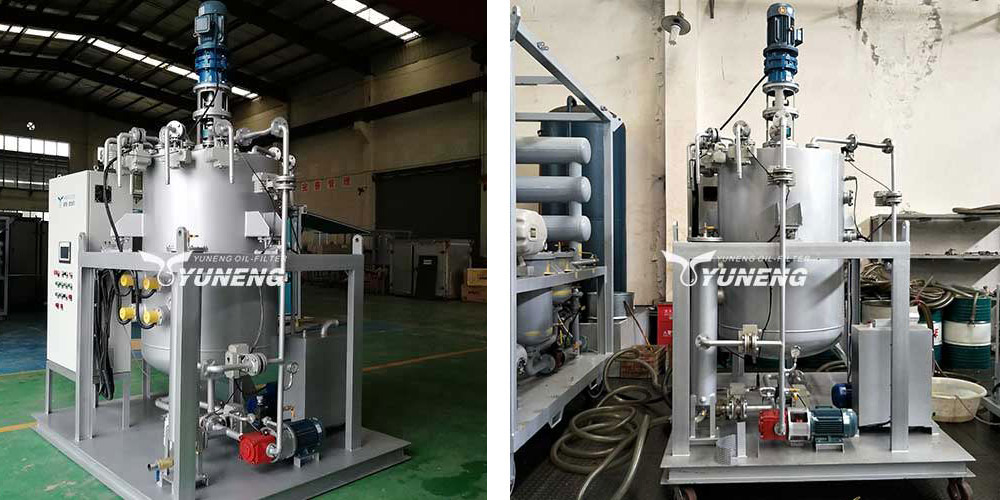 In addition to the lube oil blending machine, we also provide lube oil purifier. Our company can produce 1,000 sets of oil purifier machine for other fluids every year. We are one of the world's competitive companies specializing in high-tech oil purifier research and manufacture. If you have any questions or needs for our oil purifier, please feel free to contact us.