SF6 Gas Recovery and Filling Machine
The sf6 recovery and treatment device can recover, purify and replenish SF6-gas with a high degree of safety and reliability during its processing, and provides a variety of functions through automatic drive and control technology.
This rugged sf6 gas handling equipment includes multiple components including recovery system, aeration system, vacuum system, purification system and gas storage system. Can store gaseous and liquid SF6.
The SF6 tank can withstand pressures up to 5.0mPa, and the SF6 gas can be recovered to a final vacuum of 1 mbar to 5 mbar, which far exceeds the IEC 62271-4 regulations. This type of equipment is equipped with semi-automatic controls and is easy to operate.
Through high performance and efficient processes, our SF6 extraction and aeration equipment can dry, filter and liquefy SF6-gas to refill internal storage tanks and external SF6 gas cylinders.
Description of SF6 Gas Recovery Unit
SF6 gas is a good electrical insulator. SF6 gas can not only provide insulation, but also ensure the stable operation of the equipment under the normal pressure level that cannot be provided under vacuum. On the other hand, the SF6 gas can cause a greenhouse effect. If these gases are put into the atmosphere, it will cause great harm to the environment. Therefore, this gas must be handled properly.
Gas treatment, purification and filling equipment widely used in SF6 gas-insulated electrical equipment factory, use, operation, scientific research departments and so on, to create a vacuum for a variety of electrical equipment, and fill electric equipment with SF6 gas, and recover SF6 gas from the use or test equipment, then fill to storage tank after purifying and compressing. The recovery device is suitable for SF6 electrical appliances and GIS combined electrical apparatus. It consists of a gas recovery system, and an inflating system, a vacuum system, a purification system and a gas storage system.
Features of SF6 Gas

Recovery Unit
Vacuum Evacuation and vacuum filling for SF6 switch and GIS.

SF6 gas treatment.

Evacuation and vacuum reading for the device itself.

To Fillthe SF6 switchgear.

To dry and purify the recycled SF6 gas.

Liquefy the SF6 gas.

Liquefied SF6 gas stored in the tank.

Fill the SF6 gas into the outer tank.
Parameter of SF6 Gas

Recovery Equipment
Item

Name of Parameter

Unit

QTHS-1-2

QTHS-1-10

QTHS-1-15

QTHS-1-30

QTHS-1-60

Technical parameter of the equipment

Capacity

m³/h

2

10

15

30

60

Recovery pressure

MPa

≤0.05

1m³ gas recovery time (initial pressure 0.6MPa)

h/m³

≤3

≤0.6

≤0.4

≤0.2

≤0.1

Final pressure

MPa

0~0.8 Adjustable

1m³ gas injection time(initial pressure 133Pa to 0.6MPa)

h/m³

≤3

≤0.6

≤0.4

≤0.2

≤0.1

The time required for 1m³ volume vacuity from 0.1MPa to 133Pa

h

≤1

≤0.6

≤0.4

≤0.4

≤0.4

Ultimate vacuum

Pa

≤10

Gasification way

 

Electric Heating

Liquefaction way

 

High-pressure condensation liquefaction

Dry filter regeneration mode

 

Vacuum activation regeneration

External dimensions(including storage tank rack)

mm

1000*800*1500

1600*1200*1800

1800*1200*1800

1800*1200*1800

2300*15800*2000

Working power

V

(380V-50Hz) 3Phase 4 Wires, or as per buyer's option

Total electrical power

KW

5

8

12

18

22

Index

SF6 Gas purity after recovery

PPM

60

Oil content

PPM

5

Impurities

μm

1
*The machine size, the weight will change slightly due to different configurations.
Advantages of SF6 Gas Recovery Machine
SF6 is commonly used in power applications and is used worldwide in high-voltage circuit breakers, metal-enclosed switch cabinets, linear accelerators, high-voltage transformers, capacitors, and gas-insulated circuits. Due to the special application of gas, there should also be a standardized process for recovering SF6 gas.
Yuneng provides the function of recovering and refilling one air chamber while emptying another air chamber. Our SF6 gas recovery unit uses completely dry compressors and vacuum pumps. The SF6 treatment and recovery device has high safety and reliability in the treatment process, and can recover, purify and supplement SF6 gas.
Product Images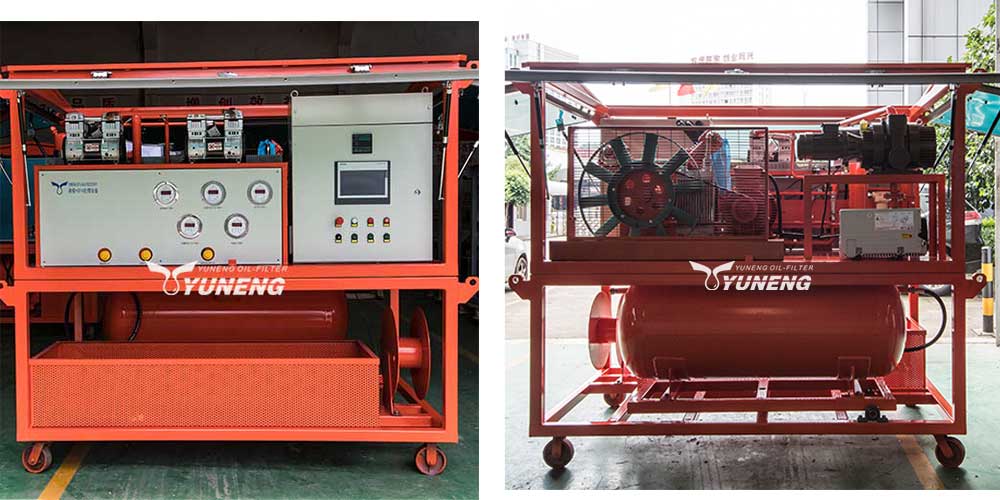 Yuneng is one of the world's competitive companies specializing in high-tech oil purification research and manufacturer. In addition to the SF6 recovery and filling machine, we also provide oil purifier machine, including a transformer oil filtration machine and lube oil purifier. If you have any needs or questions about our products, please feel free to contact us.