ZJB Single Stage Vacuum Transformer Oil Filtration Plant
The ever-increasing voltages and ratings of modern transformers and electrical equipment have led to greater electrical stress in insulating materials and fluids. To cope with these greater pressures, transformer oils with higher dielectric quality are required, and the residual moisture in the insulator must be kept low. 

In order to process and purify the insulating oil, a transformer oil filtration machine is required for filtration. Insulating oil filtration is the process of removing particles and moisture from transformer oil.

As a professional transformer oil filtration plant manufacturer, Yuneng has professional oil filtration technology. The transformer oil filtration plant can effectively remove the free water, dust and other solid particles in the transformer oil, and improve the cleanliness of the insulating oil. While removing impurities, the original properties of the pressure-swing oil are retained, and other additives and functions in the oil are not damaged.
Application of Transformer Oil Filtration Plant
For small transformers, ZJB single-stage vacuum transformer oil filtration plant is specially designed to remove pollutants, such as particles, water, gas, etc.

Dissolved gases in transformer oil can cause arcing, corona discharge, and overheating, reducing the electrical efficiency and life of the transformer. Similarly, water pollution down to 30 ppm (parts per million) can adversely affect the insulation strength of oil. With the continuous improvement of energy efficiency standards for distribution transformers, the need for effective degassing will become increasingly important in the future. Particle contamination can also affect the function of the insulating oil.
Therefore, the Yuneng single-stage transformer oil filtration system is the best solution to clean the used transformer oil.
Working Principle of Transformer Oil Filtration Plant
To purify oil under the action of negative pressure from the oil inlet valve into the primary filter to filter out the larger particles of impurities, heating the oil by the heater to the set temperature(controlled by the automatic constant temperature digital display temperature controller).

The heated oil into the vacuum chamber and be atomized by the atomized spray, step by step in the efficient separation tower from the developed area a great deal of oil film.

Under the vacuum rapid evaporation to realize the separation of oil, water in and gas.

The isolated oil by special oil transfer pump pumping out and go to the fine filter to remove the mechanical particles for completing a purification cycle.

Depending on the crude oil condition, one to three times oil purification circulation can achieve the requirement.
Working Flow of the Vacuum Transformer Oil Filtration Plant
To be treated oil storage equipment → Oil inlet → Oil inlet valve → Primary filter → Solenoid valve → Heater → Vacuum separation chamber → (two ways):
→

Vapor → Condenser 

→

Vacuum pump PV4.1

→

Air

→

Clean Oil

→

1st stage Atomizer

→

1st stage separation tower

→

Oil outlet pump

→

Fine filter

→

Oil outlet valve

→

Oil outlet

→

To be treated oil storage equipment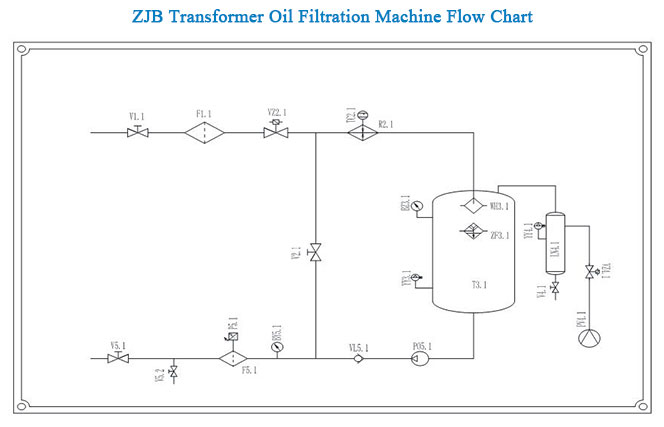 Parameter of Transformer Oil Filtration Plant
ZJB Series Transformer Oil Filtration Plant

Item

Name of  Parameter

Unit

ZJB0.42KY

ZJB0.9KY

ZJB1.8KY

ZJB3KY

ZJB6KY

ZJB9KY

Technical parameter of the equipment

Flow rate

L/min

7

15

30

50

100

150

Limit vacuity

Pa

≤90

Working vacuity

Pa

≤666

Working pressure

Mpa

≤0.5

Temperature range

℃

45-65

Power supply

 

As per buyer's option

Total electric power

kw

4.1

10.5

13.5

34

67

97

Inlet/outlet diameter

mm

15 / 15

15 / 15

20 / 20

25 / 25

32/32

50/ 50

Size

Length

cm

65

110

130

150

175

215

Width

cm

50

850

110

120

120

160

Height

cm

90

1400

150

180

235

260

Weight

kg

120

200

310

560

680

1200

Oil treatment index

Breakdown voltage

kV

≥55 (Spherical Electrodes)

Water content

ppm

≤10

Gas content

%

≤1

Filtration accuracy

µm

≤1~3
*The machine size and weight will change slightly due to different configurations.
Advantages of Transformer Oil Filtration Plant
Small and compact structure

With competitive price but high running performance

Improve oil quality and extend the transformer life span

Simple operation and reduce machine maintenance cost
Product Images

Over the past two decades, Yuneng Oil Purifier has always stuck to the operational concept of "being faithful and dedicated, practical in development, and cooperative for common progress". If you have any questions or needs about our transformer oil filtration machines, please feel free to contact us.