ZJA Transformer Oil Filter Machine 
Impurities such as water, dust, and particles in the transformer oil will affect the normal operation of the transformer. The purpose of the transformer oil filter machine working is to remove solid particles, free water and sludge from the transformer oil to ensure the cleanliness of the transformer oil and extend the service life of the transformer. 
When choosing a transformer oil filter, many factors should be noted. The most important thing is the performance of the transformer oil filtration machine. It is necessary to ensure that the dirty transformer oil is effectively cleaned and has a long service life, to truly achieve the goal of saving costs.
The transformer oil filter machine meets the use of transformer oil with different voltages, multi-stage filtration, high precision of oil filtration, and the obtained transformer oil is purer. Proper use of the oil filter can not only extend the service life of the transformer, save costs, but also contribute to environmental protection.
Application of Transformer Oil Filter Machine
ZJA Series Transformer Oil Filter Machine is used for maintenance of power transformer, this plant can effectively remove water, gas, and impurities, etc. from the insulation oil of transformer, circuit breakers, mutual inductors, cable and capacitors. It uses a high vacuum system, which is environmentally friendly and safe. It can improve the properties of transformer oil from 33KV to 1000KV.

The filtration, dehydration and degassing of power transformer oil can be performed individually or simultaneously according to various conditions of the mineral oil and customer requirements.

In order to deal with electrical stress, transformer oil is required to have better dielectric strength. The residual water, gas and pollutant content must be kept low to reduce the aging rate of the oil.

All these operations are performed using the transformer oil filter machine.
Features of Transformer Oil Filter Plant 
Suitable for 33kV to 1000kV power transmission voltage

High vacuum, multi-stage filtration, high oil filtering accuracy

Suitable for oil treatment, vacuum oil filling, vacuum pumping

Personalized design
Parameter of Transformer Oil Filter Machine
Item

 Parameter

Model /

Unit

ZJA1.8

ZJA3

ZJA6

ZJA9

ZJA12

ZJA18

Technical Parameter

Flow rate

L/H

1800

3000

6000

9000

12000

18000

Working vacuity

Pa

≤80

Working pressure

Mpa

≤0.35

Temperature range

℃

45-65

Power supply

 

50Hz    380V    3-Phase 4-Wire  (or as requested)

Total power

KW

16

36

70

100

150

200

Inlet/outlet diameter

DN

20/20

25/25

32/32

40/40

50/50

65/65

 

Length

CM

160

180

220

250

280

345

Size

Width

CM

125

145

160

195

215

260

 

Height

CM

200

220

245

270

300

300

Weight

Kg

650

900

1200

1600

2200

3000

Oil Treatment Index

Breakdown voltage

KV

≥70 (Spherical electrodes)

Water content

ppm

≤5

Gas content

%

≤0.3

Filtering accuracy

micron

1
*The machine size, the weight will change slightly due to different configurations.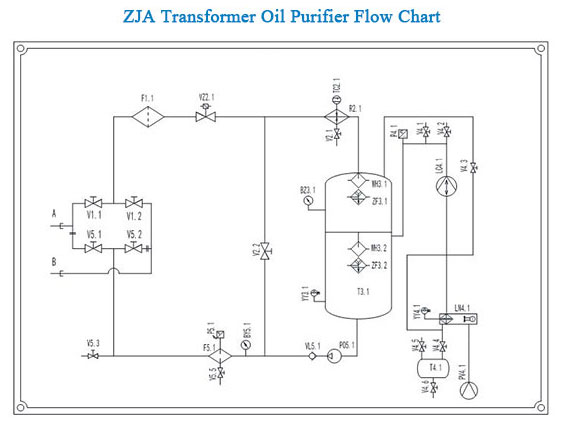 Why Choose Yuneng Oil Purifier?
Yuneng is an oil purifiers company integrating R&D, manufacturing and sales. Our company has passed BV and SGS audits and obtained. You can choose with confidence.
Choose Yuneng's transformer oil filter machine, you will get:
Face-to-face support

Design flexibility

Shorter supply chain

Faster response

Competitive price

Customize according to your specific requirements

Stainless steel vacuum chamber and pipes

High quality (officially passed the quality system ISO9001, ISO14001, ISO45001 certification)
Product Images

In addition to dry air generator for transformer, we also provide transformer oil filtration machines, including single-stage and double-stage. Yuneng can produce 1,000 sets of oil purifier machines for other fluids every year. We are one of the world's competitive companies specializing in high-tech oil purifier research and manufacture. If you have any questions or needs for our products, please feel free to contact us.