ZJA 12 Transformer Oil Treatment Plant
Transformer oil treatment plant ZJA12 is used for maintenance of large power transformers. It can effectively remove the free water, gases and other solid particles from mineral transformer oils as well as natural and synthetic esters and improve its dielectric strength.
Our company is a designing, engineering and manufacturing company capable of application customization for best solutions in oil filtration, water and gas filtration, and other reclamation products
Patent degassing and moisture removal technology
While removing impurities, the original properties of the pressure-swing oil are retained
Other additives and functions in the oil are not damaged
Both stationary and mobile type are available
Suitable to treat all type of transformer oils
Introduction
Parameters
Advantages
Learn more about ZJA
Introduction
Introduction of  ZJA 12 Transformer Oil Treatment Plant
ZJA12 Double Stage High Vacuum Transformer Oil Treatment Plant is used to decrease total water content ( ppm) and gasses present in transformer oil. Highly efficient dual stage vacuum system with vacuum chamber housing highly effective coalescer system is an ideal solution for dehydration and gas removal. Water content is decreased to less than 5 ppm according to the IEC 60814 or ASTM D1533 standards. Total gas content is reduced down to less than 0.25% according to the IEC 60567 or ASTM D2945 standard. Particulate matter is lowered to less than 99% of particles over 1.0 microns. Dielectric breakdown is improved above 70 kV. With the use of a regeneration module acidity and interfacial tension are also improved to acceptable values by the IEC 60422 standard.
TEST DESCRIPTION

METHOD

UNIT

INITIAL OIL CONDITION

FINAL OIL QUALITY

MOISTURE

IEC 60814 or ASTM D1533

PPM

<100

<5

BREAKDOWN VOLT

ASTM D-877

kV

<30

>70

GAS CONTENT

IEC 60567 or ASTM D2945

% v/v

12

0.25

PARTICLE

 

MICRON

 

<0.5

 
Features 

of the Transformer Oil Treatment Plant
Vacuum system capable of generating a 1 milliliter vacuum in the vacuum chamber.
Low watt density heaters are provided (max 1.7 watt/cm

2

 heating capacity) with indirect heating to prevent local overheating.
A flow control switch that will shut down the handling machine in the event of a flow break, with the option of bypassing the switch.
High oil level switch which will shut down the machine in case of high oil level or over-whipping in the vacuum chamber.
The manual, electrical, hydraulic, and all actuators are installed near the machine operating panel.
Possibility of online moisture measurement sensors on inlet and integrated into SCADA.
Possibility of filling of the transformer.
Possibility of Volt Meter installed.
Possibility of Ampere Meter installed.
Optional of full automatic control by PLC and touch screen.
Optional of oil flow meter on outlet and display the current and accumulated flow on touch screen.
Flow Diagram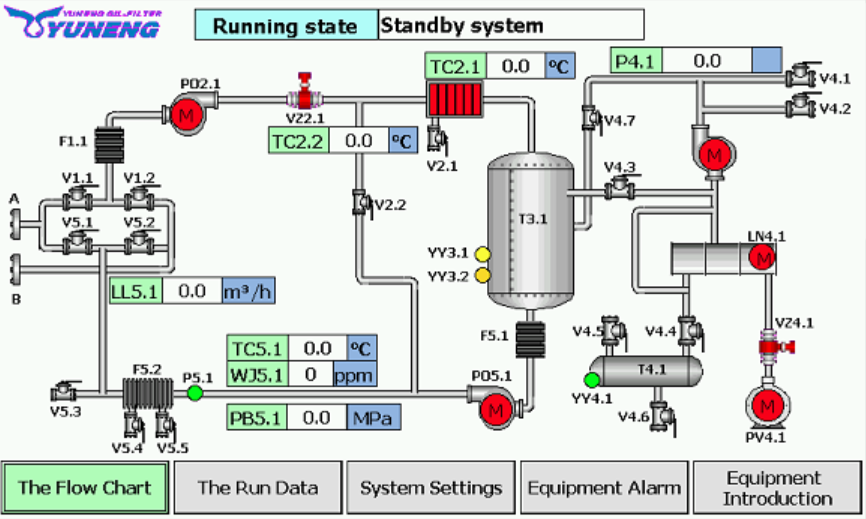 Untreated Oil Equipment→ Oil Inlet/Outlet A→ Exchange Valve, Oil Inlet Valve V1.1→Inlet Strainer F1.1→Inlet Pump PO2.1→ Solenoid Valve VZ2.1 →Heater R2.1 →Vacuum Separation Chamber T3.1→(two ways):
→Vapor →Vacuum Booster Roots Pump LC4.1 or Switch Valve V4.3→ Condenser LN4.1→Vacuum Pump PV4.1→Air ;
→Clean Oil →1st Level Atomizer WH3.1→1st Level Separating Tower ZF3.1→2nd Level Atomizer WH3.2→2nd Level Separating Tower ZF3.2→Discharge Pump PO5.1→Check Valve VL5.1→Fine Filter F5.1 àInterchange Valve, Oil outlet Valve V5.2→Oil Inlet/Outlet B→ Pending Oil Expenses Equipment
Parameters
Advantages
Learn more about ZJA