ZJC Lubricating Oil Purifier
The lubricating oil purifier is suitable for quickly dehydrating, degassing and removing impurities from the high-viscosity waste lubricating oil in the equipment. After treatment, the treated oil can reach the cleanliness of NAS6. The equipment has a strong crushing ability, and the use of special material filters can completely eliminate radiation. 
The lubricating oil purifier uses advanced technology combining coalescence separation and vacuum dehydration, which can achieve high precision of water and gas content. The newly developed automatic dual infrared liquid level control system replaces manual or floats valve control, ensuring the safe operation of this model. With an automatic backwash system, the filter can be cleaned by the machine itself, and the filter can be maintained in time to extend its service life. The machine has beautiful appearance, advanced design, reliable quality, reasonable price and good service.
Application of Lubricating Oil Purifier
Lube oil is the product of crude oil refining process. Its responsibility is to prevent contact between metals and reduce friction and wear of moving parts. Lubricating oil needs to be processed before it enters the engine, which means that water and solid impurities need to be removed from the oil. It is very necessary to choose a suitable lubricating oil purifier.

ZJC Series Lubricating Oil Purifier is used to purify various used industrial oil with the viscosity lower than 320 mm²/s, such as turbine oil, mechanical oil, hydraulic oil and cooler oil, etc. which are polluted by the water infiltration, emulsification and particle pollution, etc. in the process of their production, transportation and usage. It can effectively remove water, gas and impurities.
The Function of Lubricating Oil Purifier
Evaporate water from the oil under a vacuum.

Dehydrate, filter, purify and degas the oil.

Self-regulatory system.

Available in multiple sizes and options.

Complete oil purification solution package.

The equipment to be shipped is ready and requires minimal preparation.

Enhanced mobility options (applicable to road trailers, casters, etc.).

Multi-function to perform multiple tasks.
Features of Lubricating Oil Purifier 
Suitable for oil viscosity≤320 mm2/s

Compact in structure, simple in operation

Convenient in maintenance, low cost

Personalized design

Yuneng's lubricating oil purifier uses advanced technology that combines coalescence separation and vacuum dehydration.

Compared with traditional purifiers, this equipment can remove impurities with high precision. Add artificial intelligence program, manual operation is more convenient and safer.
Parameter of Lubricating Oil Purifier
Item

Parameter

Type / Unit

ZJC1.8KY

ZJC3KY

ZJC6KY

ZJC9KY

ZJC12KY

Technical parameter

Flow rate

L/Min

30

50

100

150

200

Working Vacuity

Mpa

-0.07~-0.09

Working pressure

Mpa

≤0.5

Temperature Range

℃

40-60

Power Supply

 

50Hz    380V    3-Phase 4-Wire

Total Power

KW

13.5

33

65

97

127

Inlet/Outlet Diameter

mm

25/25

32/32

40/40

50/50

65/65

Size

Length

mm

130

155

190

180

185

Width

mm

95

170

180

10

220

Height

mm

140

170

180

210

220

Weight

Kg

330

560

950

1300

1700

Oil treatment index

Water Content

ppm

≤50

Filtration accuracy

µm

3

Impurities

 

None ( Visual appearance)
*The machine size, the weight will change slightly due to different configurations.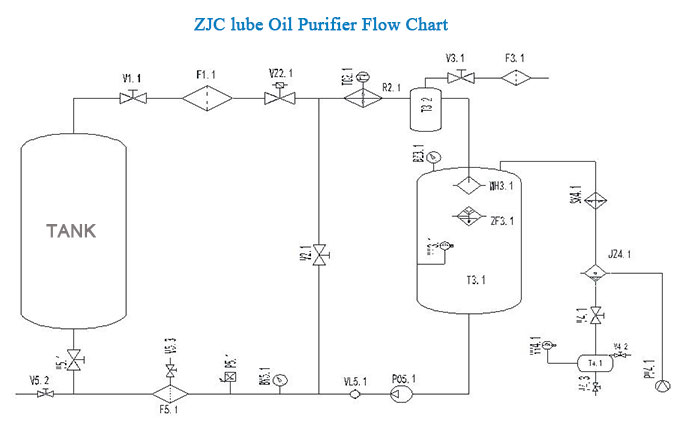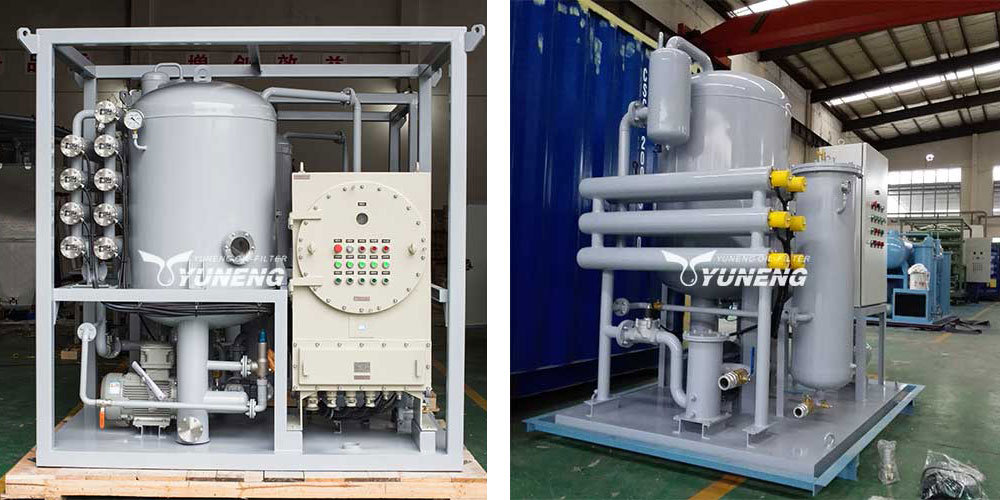 Reasons For Choosing Yuneng Oil Purifier
Yuneng can provide a variety of oil purification machine design options according to customer needs.
We use the best materials to manufacture our machines. Reduce your operating costs by extending the life of your equipment.
So far we have sold over 15,000 sets of Yuneng brand oil purifiers, which are widely used in power electric, metallurgical, petrochemical, mechanical, military industry, railway, light industry, and other industries. If you have any questions or needs for Yuneng's lube oil purifier, please feel free to contact us.