Mobile Transformer Oil Filtering Machine with Trailer and Door
Double Stage Vacuum Transformer Oil filtering Machine is widely used in electric power, petroleum, chemical and railway fields. When installing and maintaining various large transformer equipment, it can also be used for hot oil circulation drying and oil purification. The transformer oil purification system is suitable for the purification of insulating oil from 110kV to 1000kV voltage.
Compared with the single-stage transformer oil purifier, this machine has double-stage high-efficiency separating column and a three-dimensional fast flash evaporation system. It can dehydrate, degas, remove acetylene, remove free carbon, etc. The treated oil meets could be reused as new transformer oil. It extends the service life of the transformer.
Introduction
Parameter
Advantages
Images
Introduction
Introduction of the Transformer Oil Filtering Machine
The transformer oil filter is a mobile purifier unit mounted on trailer. It removes water, solid particles, air and other gases present in the dielectric fluids.
Purify oil inside the oil filled transformers
Remove moisture from the oil
Improve dielectric strength
Improve the gasses inside the oil
Flow range from 1800LPH to 18000LPH
The operation of the ZJA transformer oil purifier is based on the principle of vacuum dehydration combined with fine filtration to remove particulate contamination. It features a high working vacuum, fast oil filtering and sound oil quality protection.
Model Explanation for Trailer Type Transformer Oil Filter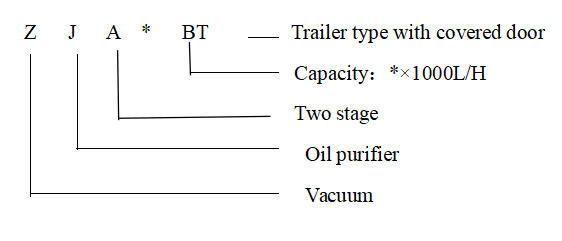 Technical Specifications
Model

Treating Capacity

Heating Power

Total Electric Power

Inlet and Outlet

Weight For Reference

ZJA2BT

2000LPH

12kW

15kW

DN20/20

1550kgs

ZJA4BT

4000LPH

30kW

33kW

DN25/25

1750kgs

ZJA6BT

6000LPH

60kW

67kW

DN32/32

2000kgs

ZJA18BT

18000LPH

180kW

200kW

DN65/65

3715kgs

Notes:

We could always offer best solution for you. For more treating capacity, please contact us.
Parameter
Advantages
Images